Female-Led. Sustainably Produced. Ethically Made.
Pictured on the right is Ms. Ginting, a female entrepreneur who came to Bali to pursue her dream of starting her own business.
We first fell in love with the beautiful bags made by Ms. Ginting and her team of artisans in Bali. However, after learning about the two pillars that drive her business: eco-friendly production and her desire to provide fair-paying jobs to those in her community, we knew we had found our perfect partner in Bali.
Our bags are made from organic materials such as Ata grass, Batik, Bamboo, and vegetable-tanned leather.
Ata is a weed that grows in the forests of Bali and loved by locals for its flexibility to be woven into any shape. After harvest it is dried, then woven into bags. Finally, the finished product is smoked over a fire of coconut shells to make the bag stronger and more durable.
You'll find our bags lined with colorful patterns of Indonesian Batik. This is a special cotton cloth dying technique, native to Indonesia, that requires artisans to repeatedly apply wax (to resist dye), selectively soak parts of the cloth in one color, and repeating the process until the design is complete.
Bamboo is well-loved as a sustainable material due to its quick growth and diverse uses. First, it is cleansed and softened with oceanwater, then, bamboo rolls are stuck together. It is finished and smoothed with sandpaper, and finally, sundried.
Magetan in East Java is known for its cowhide leather tanning. The tanning process does not involve the use of chemicals. Instead, barks, leaves, and branches are used to create rich and beautiful earthy tones.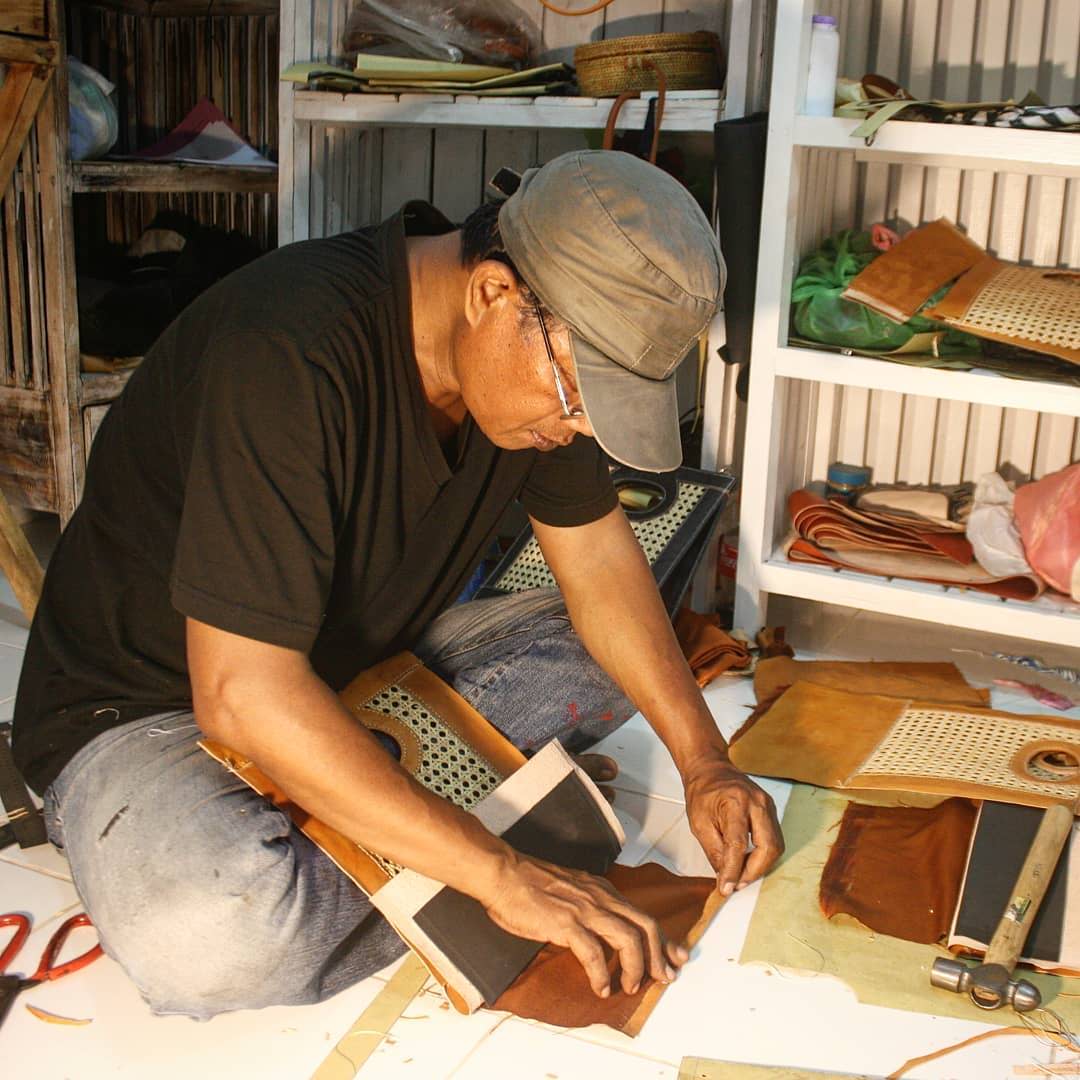 Depending on its complexity, each bag can take anywhere from two days to a week to be made. The process is led by Ms. Ginting's team of 10 artisans, each of whom have at least 10 years of experience in their craft. Currently, Ms. Ginting's team is made up of five women and five men.
Prior to working for Ms. Ginting, many of the artisans held unstable tailoring jobs at local factories. Unfortunately, they echoed past experiences of long, shifts that solely evaluated workers based on output over quality. The seasonal orders meant that when factories did not have work, they could not pay their workers. Many of the artisans struggled to make ends meet.
Working with Ms. Ginting has provided her artisans with a stable and higher pay, a friendly work environment, and most importantly, for those who have to take care of their family, the flexibility to work from home.
Even though the team sometimes works from different locations, they enjoy meeting up after work to share a good meal together.
We're constantly looking for more ways to support our artisans to use sustainable materials and production methods.
Questions, comments, or suggestions? Drop us an email at hello@adornela.com.